Ian Hill is recognized nationally as an expert in digital and social media, and his leadership has helped several news organizations increase their reach, impact and online audiences.
Under Ian's guidance…
• KXTV in Sacramento doubled its digital traffic in less than three years.
• KXTV also rose from no. 4 to no. 1 in total social audience among news organizations in the Sacramento market.
• KQED in San Francisco grew its audience by launching a Facebook page for news and collaborating with other public media organizations on several large social projects, including a significant effort to collect and gauge the opinions of young voters along the West Coast before the 2012 election.
• KQED also launched an innovative series of open newsrooms that gave Bay Area residents an opportunity to share their ideas and concerns with journalists face-to-face.
• The San Joaquin Media Group in Stockton, Calif. launched 209Vibe, an innovative alternative website and monthly publication covering its community's music and entertainment scene. The project was cited as a case study for innovation  in the American Press Institute's "Newspaper Next" report.
Ian also regularly speaks to professional and student groups and leads training presentations across the country. Here is a look at some of Ian's presentations:
• Leading social media training for reporters, anchors and producers at KHOU, Houston, Texas, 2016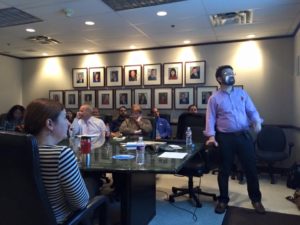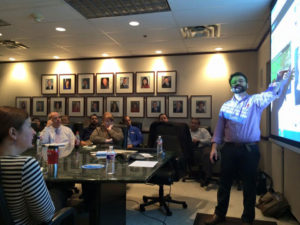 • Leading social media training for reporters, anchors and producers at WKYC, Cleveland, Ohio, 2016
Discussing social/digital news. Thanks @wkyc @denisep @ianhillmedia @evonnebenedict @frankwords @ellencrooke #learn pic.twitter.com/q53xktbSIa

— tom somers (@ToSomers) April 21, 2016
• Moderating "Perfecting Your Internal Pitch," a panel at the Online News Association national conference, Los Angeles, 2015
The art of the pitch. An endless challenge. W/ @ianhillmedia @ona #ona15pitch @KariWrites @SarahDayOwen pic.twitter.com/yiiRiF4QUO

— Michael Martinez (@MMartinezCNN) September 26, 2015
Almost ready for #ona15pitch! Get your pitches Shark Tank'ed by @theShareef, @ianhillmedia, @SarahDayOwen and me. pic.twitter.com/WQpFaHT6Ow

— Kari Cobham (@KariWrites) September 26, 2015
• Meeting with staffers as the inaugural Visiting Social Editor at USA Today, McClean, Va., 2014
Bobcat journo minyan today @USATODAY newsroom hub: @ianhillmedia ('98), @caramrich ('06) and me ('96). @OHIOAlumni pic.twitter.com/mJe6NluyIh

— Jayme Deerwester (@jaymedeerwester) November 13, 2014
• Giving the keynote presentation at the Journalism Association of Community Colleges Northern California conference, Sacramento, Calif., 2014
Getting prepped for my talk. Are you hungry yet? #JACC14 pic.twitter.com/uvMpNGsPup

— Ian Hill (@ianhillmedia) November 8, 2014
@ianhillmedia #JACC2014 pic.twitter.com/BUTD2EVqnO

— SolanoTempest (@SolanoTempest) November 8, 2014
• Leading a panel on social media for the Online News Association's Sacramento Chapter, 2014
Look at these rockstars! @sam_amick @SacBee_JoeD @johnmyers @CristinaNews10 @ianhillmedia #sacramento #askONASac pic.twitter.com/BUfVxZRdLK

— Thomas Dodson (@shockthomas) August 27, 2014
• Presenting at the California School Public Relations Association annual conference, Sacramento, Calif., 2013
@ianhillmedia presenting at @CalSPRA Spring Conference. pic.twitter.com/UwlR0bpYoG

— CCCOE (@CoCoSchools) March 1, 2013
• Talking with students in the Lewis University Social Media Club via Skype, Chicago, 2012
Thanks to @ianhillmedia for speaking to the @LewisSocMedia club today via Skype! pic.twitter.com/CnBbk3Ae

— Ben Eveloff (@Eveloff) November 29, 2012
• Presenting to students during the Online News Association national conference, San Francisco, 2012
#ONAnews12 Student Newsroom at @KQED talking with @ianhillmedia @jejohnson322! pic.twitter.com/QNxmQOG4

— Casey Capachi (@caseycapachi) September 20, 2012